There's a lot to be anxious about these days. A global pandemic, economic uncertainty and politics. Not to mention old favorites like social media and imposter syndrome. We're all scrambling to deal with it in the best we can, but there's a lot we can't control right now. Our reactions, however, are under our control. And that's something worth focusing on. Because all that bullshit out in the world—which we so often willingly bring into our lives via our trusty phones—can really amplify our inner demons and critical voices. These thoughts have an official name: cognitive distortions, and they're perfectly normal. But there are tactics experts suggest to reframe negative thoughts that will help ease your mind and steer you through it. And here are three proven options to try right now.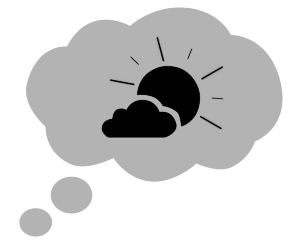 You Don't Have to Be Positive, Just Realistic
Often, people will hear "reframe your thoughts" and assume it means simply putting a positive spin on something bad. But Dr. Regine Galanti, a licensed clinical psychologist, says the opposite of an unhelpful thought isn't a happy thought, but a realistic thought. Take a step back and fact-check yourself. If you're currently looking for a new job and feel a bit dejected, you don't have to believe that your dream job is right around the corner. But you can take stock in the fact that you've put out feelers, submitted applications and are qualified for the job you want. Acknowledge that you've done all you can do. Give your mind space to explore the ways that the work you've put in will come back to you.
It Doesn't Matter If
It's True, Is It Helpful?

Say you're scrolling through social media and see a gym selfie that leads to thoughts like: "Damn, I'm out of shape. I'll never look like that. I'm worthless." Psychiatrist Dr. Willough Jenkins says that this all-too-common example of all-or-nothing thinking is one of the most common cognitive distortions. When you fall into that, you see things in black and white with no gray area. We tend to think of things as a complete success or a total failure. But deep down, we know that nobody is perfect and that social media hides a lot behind those filters. Andrea Bonior, Ph.D., author of Detox Your Thoughts, says to keep in mind that there's a spectrum of truth. Ask yourself, "is this helpful?" It's not productive to spiral about being out of shape. Instead, Bonior suggests thinking about how those thoughts that creep in can help you strategize a solution, like making a plan to workout and rework your nutrition. In that case, the negativity can be more motivating than anxiety-inducing.
Don't Dwell on It,
Distract Yourself
Dwelling on thoughts is a common distortion. But when you repeat negative thoughts or a bad experience over and over in your mind, you can get lost in that darkness and lose sight of the positive things around you. This is when distraction can come in handy. Passing time by doing things that make you feel good, like playing video games, cooking or going for a walk, can alleviate the mounting pressure of cognitive distortions. "A lot of thoughts feel really strong in the moment, but with more time that goes by they usually get a little bit less, just on their own naturally," says Jenkins.
.